FÊTE DES NEIGES DE MONTRÉAL – WINTER FESTIVAL IN MONTREAL
It's an annual snow carnival called the Fête des neiges de Montréal is a highly popular family-oriented event for those who love to enjoy the most of winter. It takes place at Parc Jean-Drapeau for four weekends (17th of January – 8th of February 2015).
You can check here for exact dates and more details. Its program is based on outdoors entertainment and family friendly with a wide range of activities. Some are free; others charge a small fee. 
Enjoy FREE admission to the site!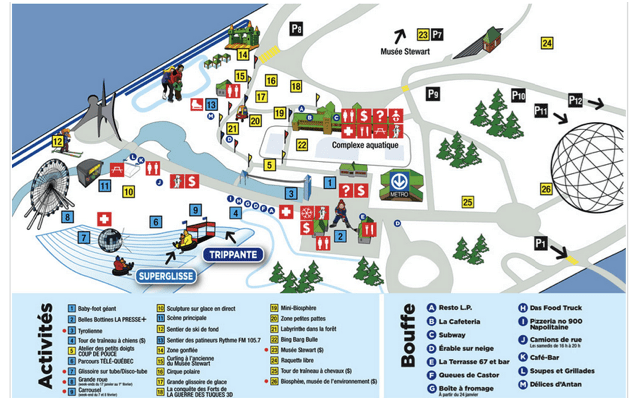 There are special events and shows during the festival all the time. Here I mentioned only few of them that will give an idea how much fun it is.
There are more than 25 outdoor activities like Tube slide s and Disco-tube, Dog-sled rides, Zip-line, Giant foosball, Belles Bottines, Bing Bang Bulle, Skaters' path, the great ice slide, Trottinettes des neiges Lafleur, La conquête des Forts and much more…
All the events you can find on their website http://www.parcjeandrapeau.com/en/fete-des-neiges-de-montreal.
It's a lot of fun not only for children but for adults as well…
I would suggest you to buy The ACCROPASSE which gives you exclusive and unlimited access to the following activities during the 8 days of the Fête des neiges:
Tube slide and Disco-tube

Zip-line

Ferris wheel (offered on the weekends of January 16 to January 31)
THE ACCROPASSE offers other benefits:
Free admission to the Biosphere, Environment Museum
Free admission to the Stewart Museum
An extra 30 free minutes in recreational equipment rental time at the regular price at Écorécréo rental centre

Discounts on various restaurants.
Next part on CANADIAN WINTER FESTIVALS – in Ottawa coming soon…
Are you planning to visit? Share your thoughts and let us know!

Like this? Share with your friends!