I plan on writing three separate articles on Canadian Winter Festivals, with the first being our trip to Quebec City for the Winter Festival "Carnaval de Quebec" last year.
It was held from January 30 to February 15, 2015. You always can check for date's and program's on their website   (http://carnaval.qc.ca/en)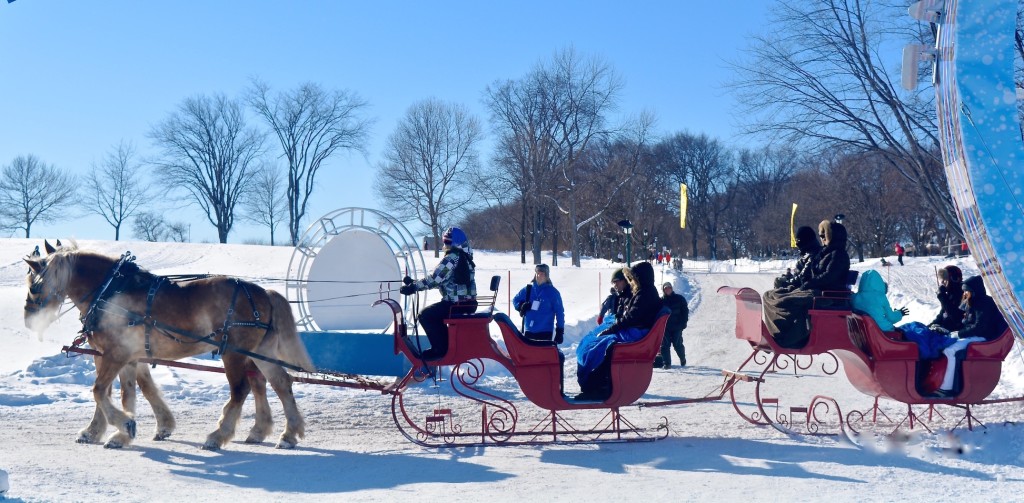 This was my first trip to Quebec City in the winter. Quebec City reminds me of  lot of Europe with its little streets and coloured houses.
Fun fact: Quebec Winter Carnival is the largest festival in Canada and the largest winter festival in the world!!! It's also the third on the List of Top Carnivals after famous carnivals in Rio de Janeiro and New Orleans!
With more than 1 million visitors!
It was really fun; we actively spent time walking around breathing in the cold frosty air and enjoying the beauty of Quebec City. The most important thing is – do not forget to dress warm! We went to a nearby hotel few times to warm up. It was – 20, but with the wind – a chilly -30! 🙂
The history of the carnival began in the late XIX century: the inhabitants of New France (Quebec) have traditionally staged two weeks of festivities before Lent. The main event of the carnival to this day remains a masquerade ball with up to 400 participants in the ballroom of the famous Grand Hotel "Chateau Frontenac" dancing the night away and a fight for the title of Queen of Carnival.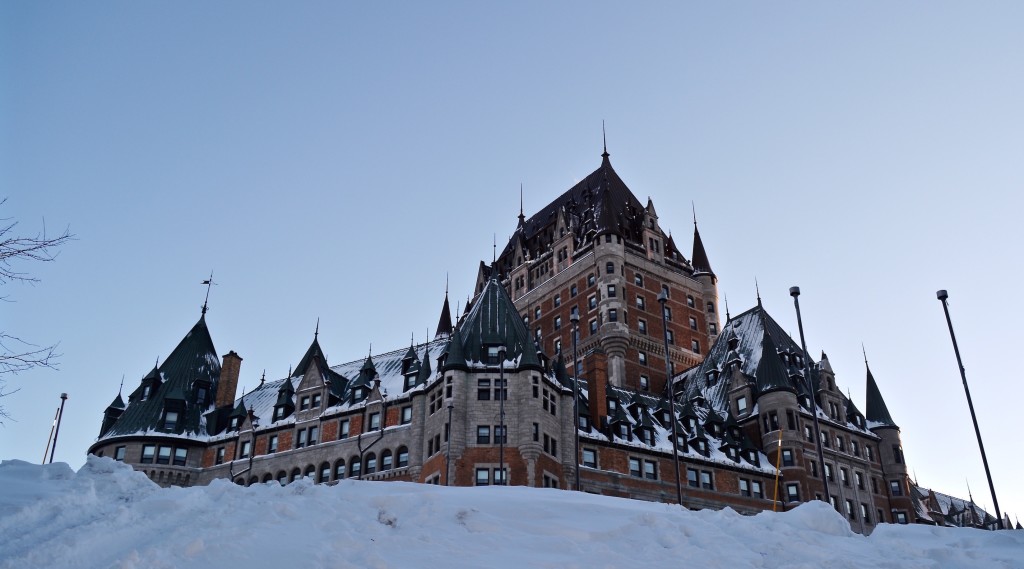 Streets are decorated with animations and ice sculptures. In the evening we enjoyed one (there are two) of the wacky and colourful street night parades enjoying a beverage from one of the many side street ice bars.
We attended on the 2nd day of the festival. Artists were still working on their snow sculptures; some might think it's better to come at the end of the festival to enjoy these beautiful masterpieces. I really appreciated all the work it took to bring these sculptures to life. It's an amazing process.
Snow sculptors create unique images of the most intricate shapes and sizes. Many artists come each year to Quebec in order to participate in the international ice and snow sculpture competition. It's not to be missed.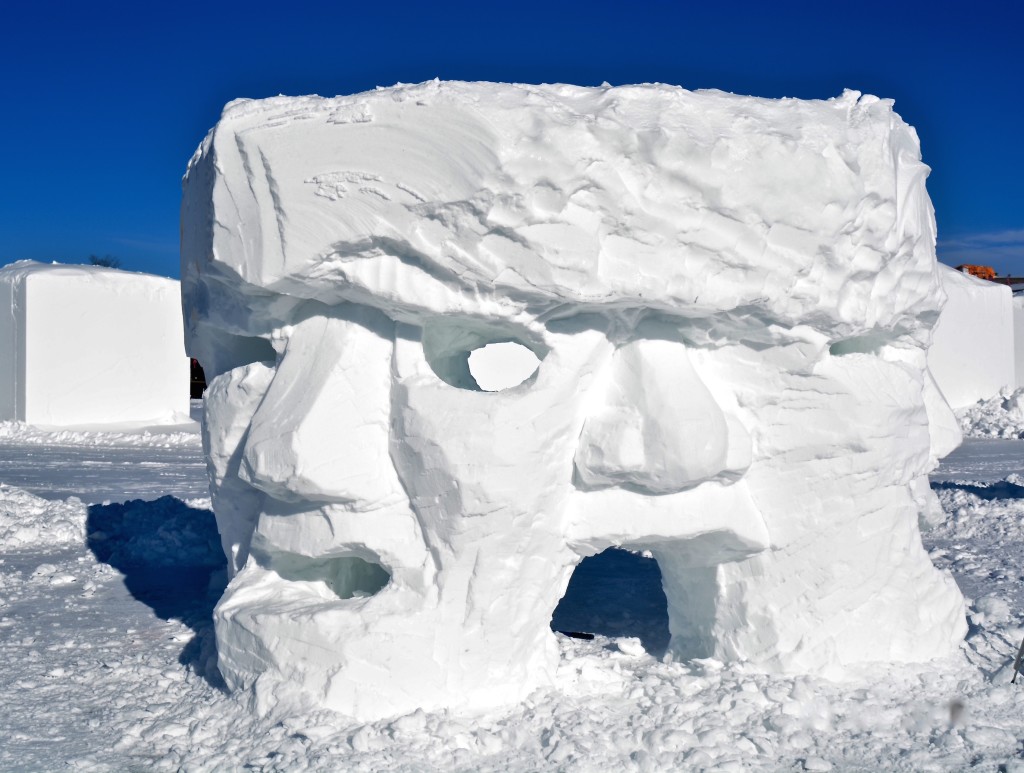 The official symbol of the holiday is Bonhomme (short for bonhomme de neige ("snowman"). He is the official ambassador of the festivities. The lord of the Ice Palace Bonhomme is a large snowman sporting a red cap and belt with black buttons and an infectious smile. His red belt and red cap are a tribute to the traditional clothes Quebec farmers wore for centuries. At the beginning of the festival Bonhomme receives the key to the city from the Mayor of Quebec, making him the undisputed master of the Kingdom.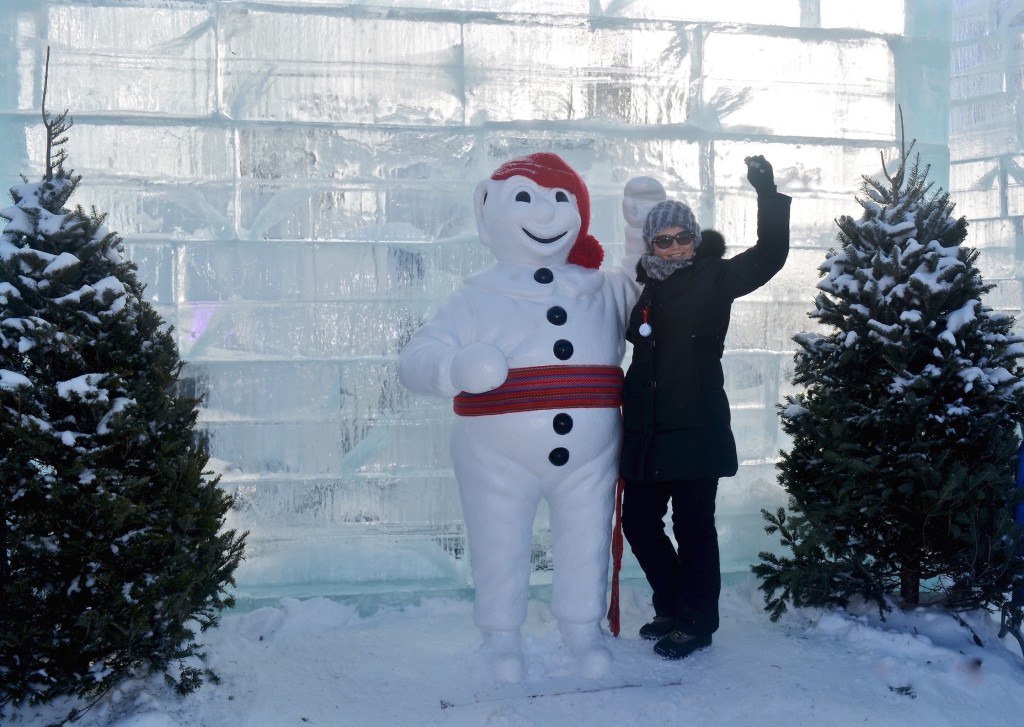 The festival program is very diverse it includes: cross-country skiing, ice fishing, dog sled races, kayak and canoe races (in the snow, of course), ice sculpture competitions, ice fortresses, and if your lucky you might have a quick tango with Le Bonhomme himself! Or you can relax in the many outdoor Jacuzzis. I've really only scratched the surface of things to do. Each year the organizers come up with creative and festive ways to enjoy this awesome festival!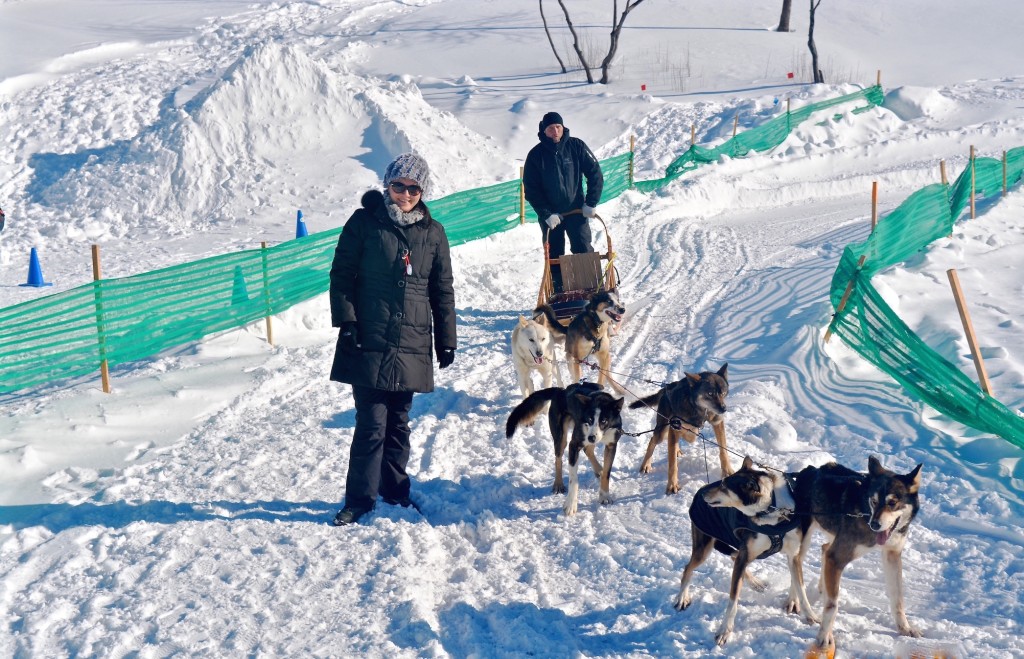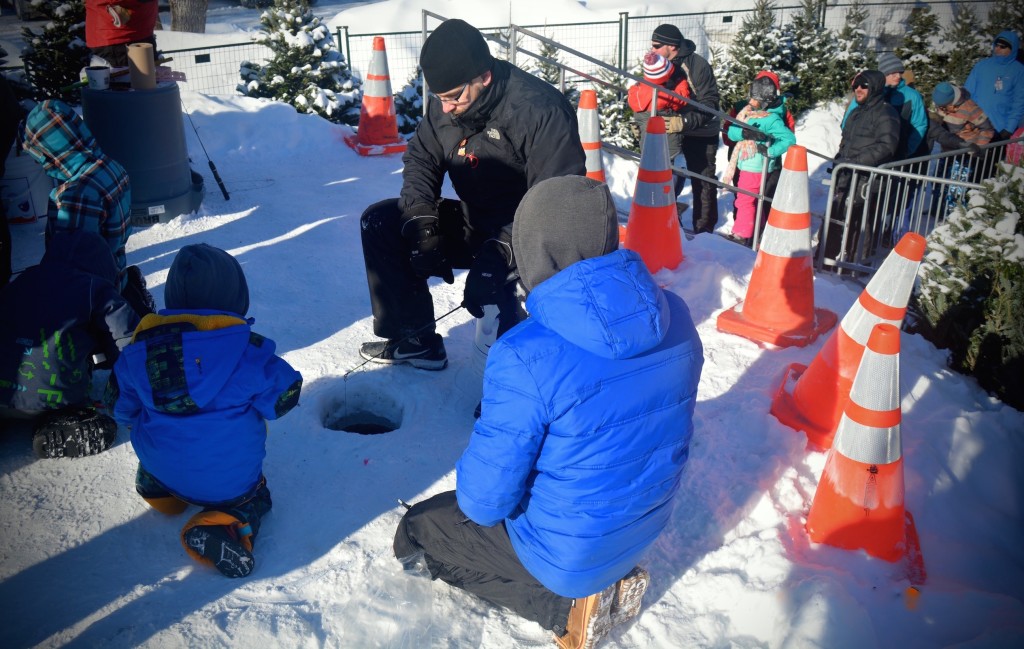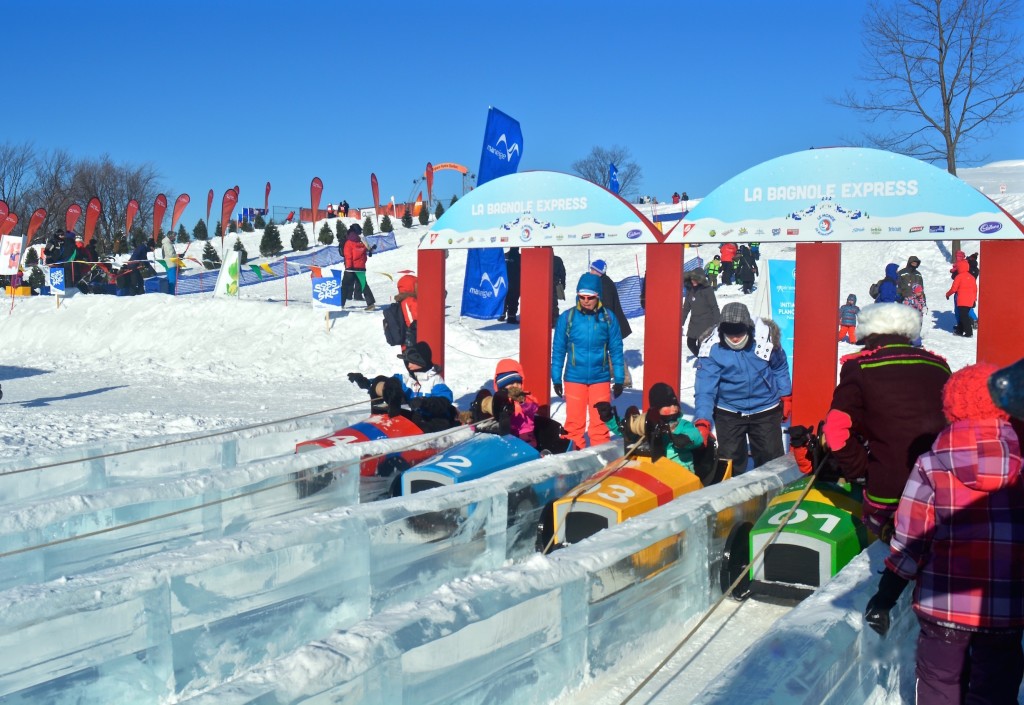 And don't worry about food or drink. There are tons of cafes, restaurants and bars ready to serve.
Another Carnival tradition is a drink called Caribou. It contains brandy, vodka, sherry and port. Its served hot or cold and best enjoyed from a plastic walking stick (you'll know what I mean when you see it).
Food wise a popular French Canadian dish the first settlers enjoyed is pea soup. You can enjoy the soup with ham, spicy pork & beans, beef patties, a tourtière (meat pie). You arr not only limited to these options though. There are vegetarian and vegan selections as well so no one will go hungry!
For la pièce de résistance you must, must, must try the maple syrup snow taffy pops! They are my favourite! It's poured on a bed of snow, you then roll it on a stick and enjoy!
If that's not your thing, I'm sure many of the other maple syrup infused sweets will get your attention.
Another traditional symbol of the Quebec Winter Festival is a red trumpet. It's basically a long red tube sold everywhere and can be heard all the time during the Carnival.
A 15CAD pass (which comes with little souvenir replica of Bonhomme) provides you with access to most of the activities and venues of the carnival. It can be purchased online or in advance at stores throughout the city. Family packages are available, and groups of 25 or more can be bought online at the Carnival's official website https://carnaval.qc.ca/home.
Quebec Winter Carnival is a very popular destination and if you are planning to spend 2 or more days, I strongly suggest you reserve accommodation in Quebec City well in advance. You can book it here.
If you are planning to come by train, you can take advantage of VIA RAIL's Tuesday sales which I wrote about it in my article Discounts from Via Rail every Tuesday. 
There's also plenty of parking if you plan on driving.
We really had good time and at really was a lot of fun! Next time we plan to stay the whole weekend to really enjoy the nightlife of Quebec Winter Festival.
One final tip: although most of the activities are free of charge, it is always good to have some change/cash with you for drinks, snacks and souvenirs. 
I posted more pictures of this trip here… or watch a video on my  YouTube Channel
I plan on writing more on Canadian winter festival's soon, the next two will be in Montreal and Ottawa's winter festivals.
Are you planning to visit? Share your thoughts and let us know!
Where to find great deals?  Sign up for FREE exclusive weekly updates
Check more pictures and videos: FACEBOOK    INSTAGRAM   YOUTUBE
Share your experience!
Like this? Share with your friends!