Part of our California trip (Los Angeles – Death Valley – Yosemite Park – Monterey- Highway 1-Los Angeles) was on Scenic Highway 1 where we went from Monterey to Los Angeles. So this article will focus only on this part of Scenic Highway 1.
About the beginning of the trips read previous articles: Death Valley in article "7-things to do in Death Valley in 1 day",  Yosemite National Park in article  "2 day visit of Yosemite park and some tips"),  Monterey in article "Top things to see on Pacific Coast Highway One – Part 1").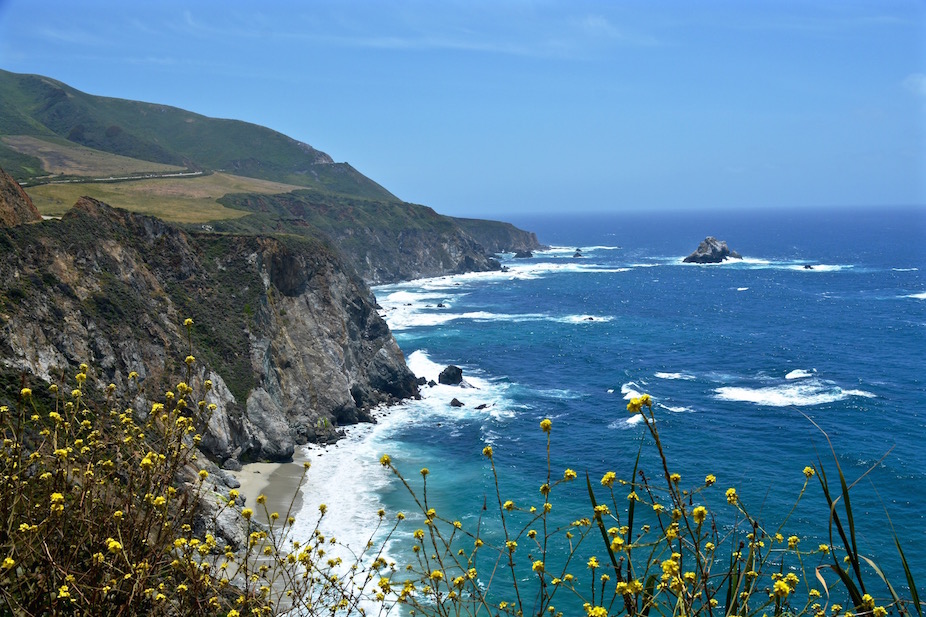 Driving this narrow two-lane highway through Big Sur and beyond is very slow going. There are turns literally every few meters so PAY ATTENTION! It's very difficult if not impossible for the driver to get a good look at the ocean view. We would switch drivers every few KM's for that reason alone as the scenery is just incredible!
The view of the rocky cliffs overlooking the water, where you can see birds fly over the water as thousands of sea lions lay on the jagged rocks in the sun. Meanwhile looking ahead the road looks more likes a snake that a highway with all the hills and winding turns, it's just magnificent! There are many picturesque towns you can stop to see during your drive. We did not stop are every one due to time restrictions. I suggest planning ahead as it can take a while if you are planning to stop at every town or view point.
Carmel-by-the-Sea.
Leaving Monterey the route will take you trough Carmel-by-the-Sea. It is about 4 km south of Monterey via Hwy 1. You can find restaurants, inns shops as well as Mission San Carlos Borromeo del Rio Carmelo. The second mission founded by Padre Junipero Serra in 1770. It's colourful little town.
Point Lobos State Reserve.
About a 5 km drive from Carmel-be-the-Sea is Point Lobos State Reserve. It's more for those what who want to get out of the car and head out for a hike where you can see grey foxes, sea otters, sea lions and black tailed deer. It's pretty big park approx 550 acre. Check more at their website – www.pointlobos.org Parking fee is 10USD per car or you can find FREE parking at municipal lot (cnr 3rd & Junipero Aves) behind the Vista Lobos building.
Big Sur.
Big Sur has to be the most dazzling section on California coastline. There are no traffic lights, banks or strip malls. When the sun goes down, the moon and the stars are the only streetlights  – reserve your place to see sunset!
Bixby Bridge.
The Bixby Bridge – landmark less than 20 km south of Carmel, this landmark is one of the world's highest single-span bridges. Completed in 1932, it was built by prisoners who were able to shave years off their sentences. It has a single-span concrete arch more than 260 feet (80 meters) high and 700 feet (200 meters) long. It's a great place to stop for pictures and just marvel at the scenery.
Pfeiffer Big Sur State Park.
We have stopped at Pfeiffer Big Sur State Park. The hiking trails we took went around the massive redwood trees and groves. It's stunning just how thick and tall these trees grow! You could see the result of previous forest fires on many of the redwoods. Walking around them I got a sense they were silent sentinels watching over the park making sure we were all safe.
The most popular hike (also the one we went on) was to Pfeiffer Falls. It's about 60ft high, a delicate cascade hidden in the forest. But after being spoiled by Yosemite Park, this small waterfall did not impress.
We skipped Pfeiffer Beach with its famous purple sand due to time limits. A simple Google picture search will show you the awesome purple sane which makes it a must visit. It was our first drive along this coast and time really becomes a factor. We'll definitely stop by next time!
TIP: At state parks, your parking fee (10USD) receipt is valid for same-day entry to all parks along the way except Limekiln.
There are many restaurants along the coast with a nice view.  We stopped for a late lunch at Whale Watcher Cafe (which wasn't bad, just a bit pricey).
Hearst Castle in San Simeon.
We could not visit this time but maybe you can visit the wondrous, historic Hearst Castle. It's an example of a unique chapter in American history. To see anything you have to take a tour (25USD per person and tickets should be booked in advance in summer time or show up early). Check more at  http://hearstcastle.org/
The day was coming to the end and we drove to our Radisson hotel in Santa Maria. It's very nice hotel with free WIFI.
Santa Barbara.
In the morning we headed to Santa Barbara for breakfast. After a quick check on Trip Advisor we choose Sambo's On The Beach. We were looking something along the beach and this is the perfect spot! 56,050,000 Pancakes were served in this place since 1957! The food was very tasty and you can get bottomless coffee.
After breakfast we went out for a pleasant walk on the boardwalk by the water. Santa Barbara is very clean, neat and beautiful.
We walked along Stearns Wharf at the end of State Street in Santa Barbara along the waterfront. This picturesque wharf was built in 1872 – the longest deep-water pier between Lon Angeles and San Francisco – has lots of history. Badly damaged several times by fire, it has been repeatedly rebuilt and today features many shops and restaurants, and one of the best views in California from the end of its pier. You can see brown pelicans at the end of the wharf, and sea otters be the water. It was once owned by Hollywood legend James Cagney.
There are many things to do and to see like in Santa Barbara if you have more than few hours: Santa Barbara County Courthouse, Santa Barbara Mission, Museum of Natural History, Museum of Art, Historical Museum,  Karpeles Museum, Botanic Garden and Zoo. But we had to go to Los Angeles as we had only 2 days to discover  and I will tell about Los Angeles in my next article.
For overnight stay's on Pacific Coast  Highway 1 –  check Airbnb, Booking or use a list of money saving travel resources.
Where to find great deals?  Sign up for FREE exclusive weekly updates
Check more pictures and videos:  FACEBOOK    INSTAGRAM    YOUTUBE
Have you been there? Share your experience 🙂  
Like this? Share with your friends!