I would describe Death Valley in 3 words: Hottest, Driest, Lowest. 
Some words about the Death Valley National Park – it's the largest U.S. National Park outside Alaska. It's located primarily in the Southern California Desert, with a small portion extending into Nevada. It's territory is 3.4 millions acre (14,000km2) Many visitors think the park is simply lifeless, empty landscape but it's not true. Trust me, it's worth visiting! Still don't believe me? Keep reading and look at the pictures, you will agree it's one of the most awe-inspiring places on Mother Earth.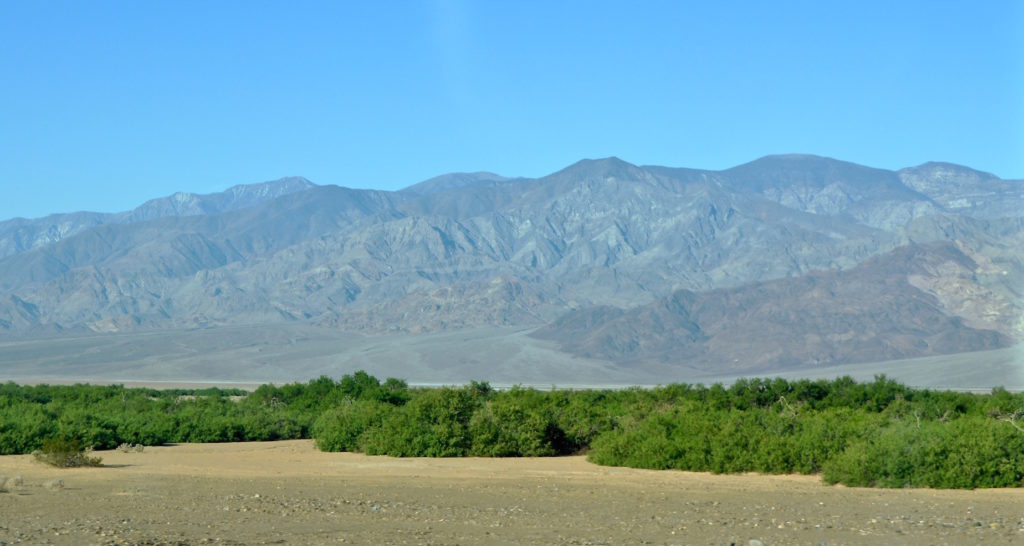 The valley itself is about 130 miles (210 km) long, between 6 and 13 miles (10-21 km) wide and is surrounded by steep mountain ranges: the Panamint mountains are to the west, the Black, Funeral, and Grapevine mountains are to the east.  91% of the park is protected as officially designated Wilderness. That wild country includes low valley floors crusted with barren salt flats, rugged mountains rising as much as 11,000 feet, deep and winding canyons, rolling sand dunes, and spring-fed oases.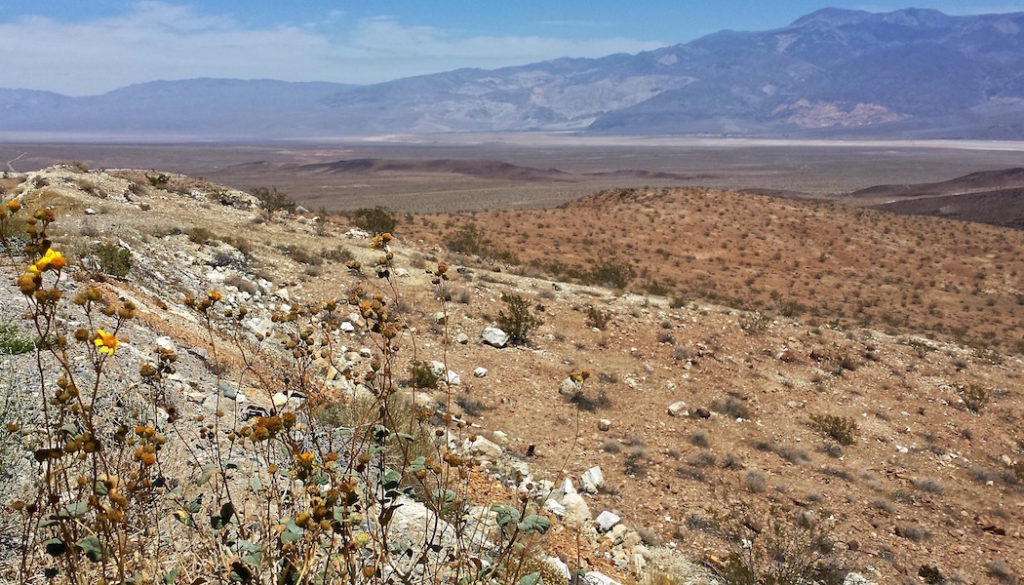 What to expect.
We went to Death Valley at the end of May. Personally, I think it's the best time, in summer it gets crazy hot. A daytime temperature was about 43° when walking in the lowest points of the valley (which is tolerable). We spent about 10-15 min outside in the lowest points longer in the higher mountain ranges, but not much. One good thing is the higher you go more the temperature drops. And don't forget to bring a lot of water with you; you'll need it! We drank a lot! It is recommended about 4 litres per day. 
Death Valley National Park was our first stop on our 9 day California trip. We drove from Los Angeles airport to Death Valley Junction in about 5 hours. I wish we would have at least 2 days; there really a lot to see.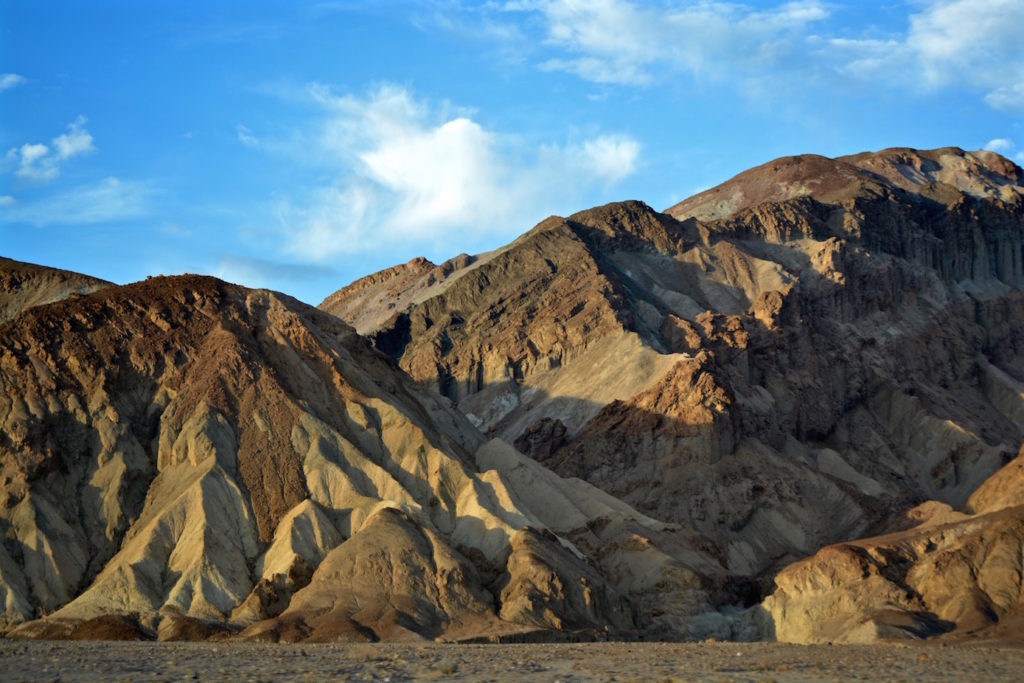 We could only go to 2 areas due to time limits. There are 4 must see areas in Death Valley National Park: Furnace Creek, Stovepipe Wells, Panamint Springs, Scotty's Castle (closed now due to flood damage) you need more time than 1 day to discover more.
Most Popular Points for a 1-day visit (my recommendations): 
1. Zabirskie Point – this famous viewpoint loved by photographers and is just 2-minute walk from the parking lot. I agree that this view is one of the best in the park. I would recommend to come here for sunrise or sunset. View overlooks interesting colourful canyons. It's my favourite point.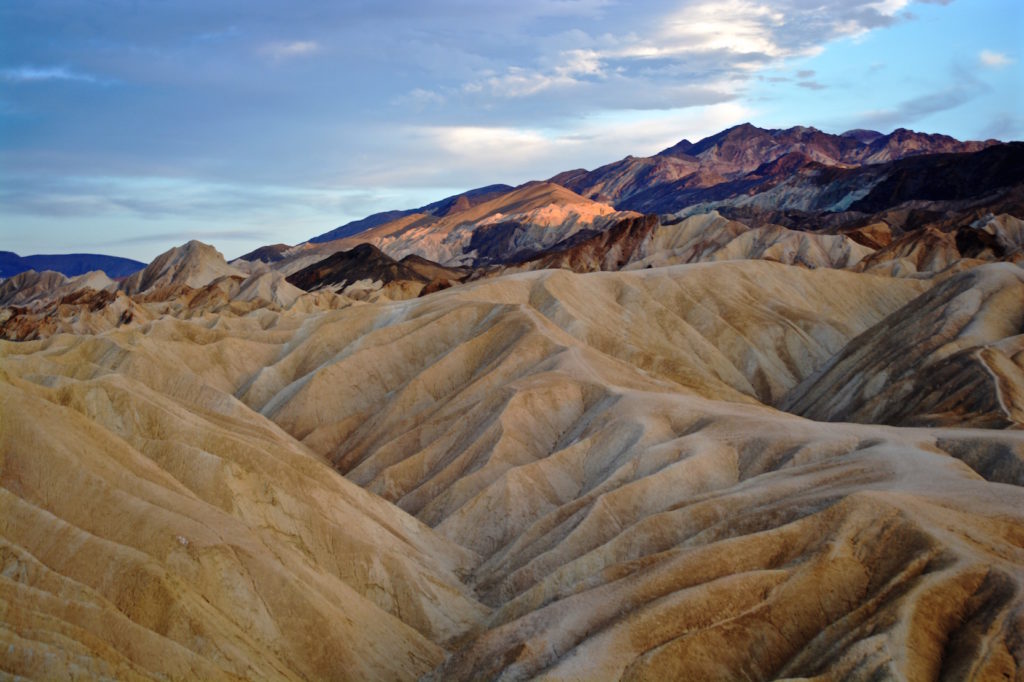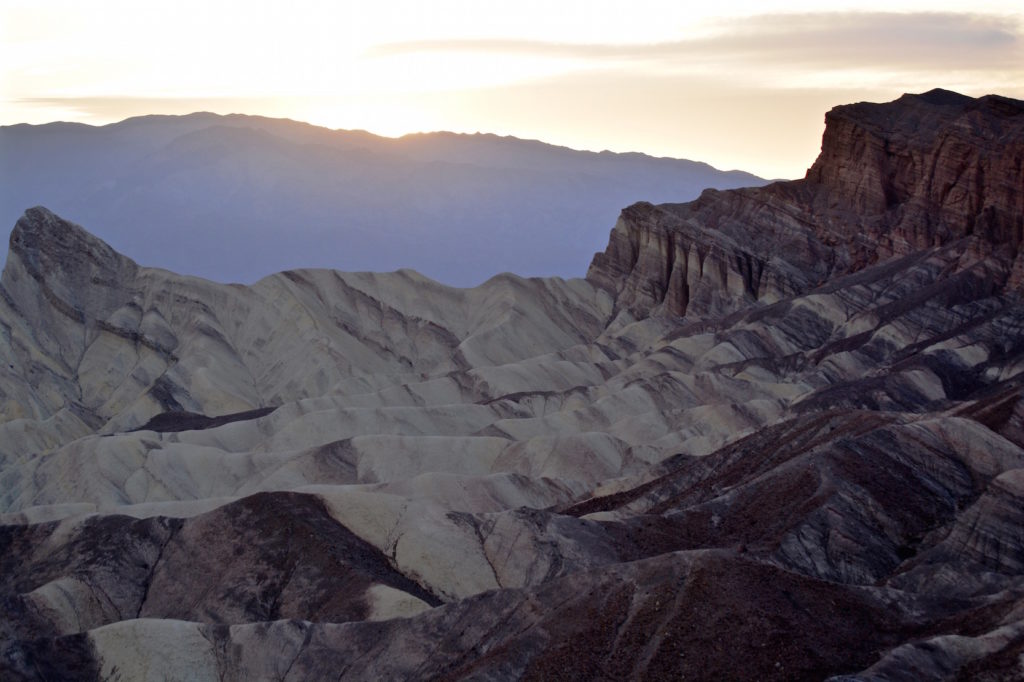 2. Badwater at 282 feet below sea level, it's the lowest point not only in Death Valley but in North America. Here you can walk out onto on a bed of salty, mineralized water. Trail leads out onto the salt flats. When photographing Badwater Basin, walk out on the flats a bit and shoot back at the pool of water for reflection photos.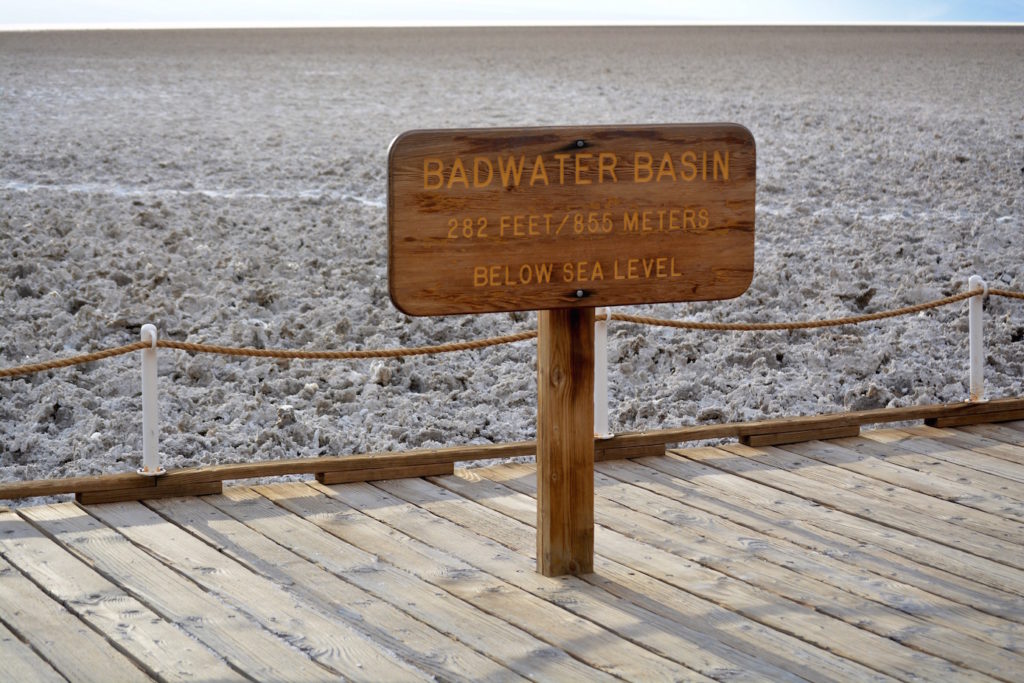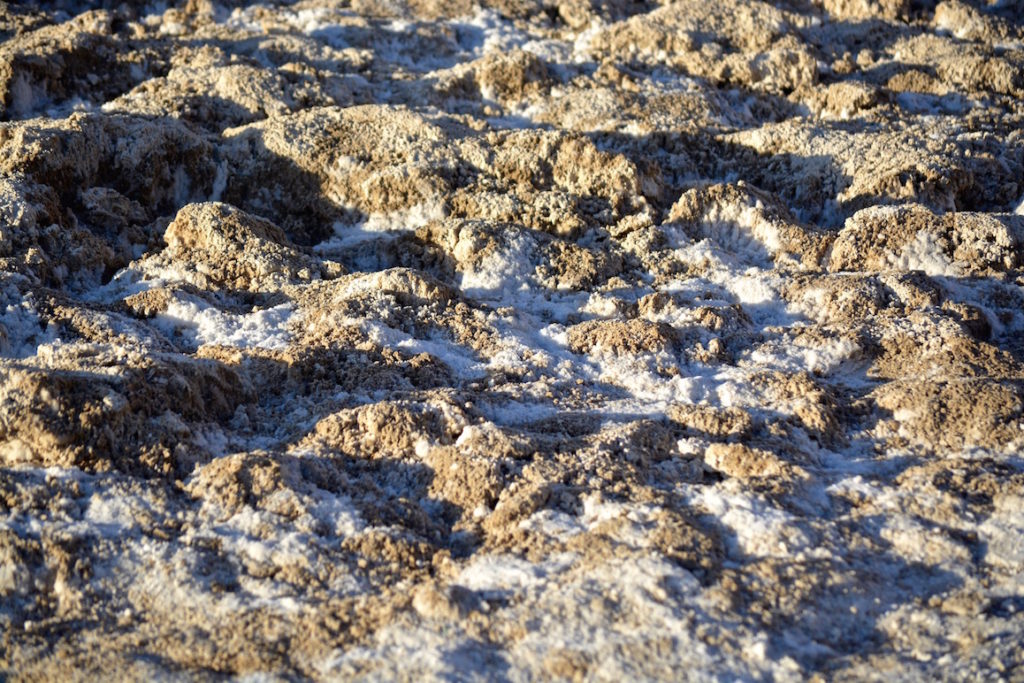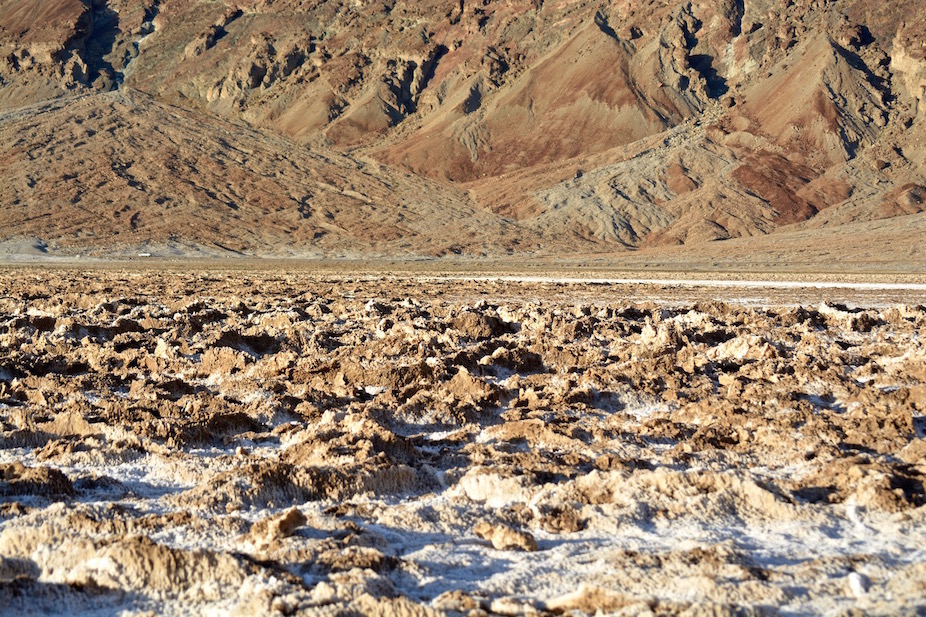 3. Dante's View at 5475ft where you can simultaneously see the highest (Mt Whitney) and the lowest (Badwater) points in USA. It's a spectacular view and just a mil or two away from Badwater, but 4000 feet taller. The road to Dante's View is a bit of a long drive on a winding road (it takes 1,5 hour to 2 hours round-trip), but the view is worth it.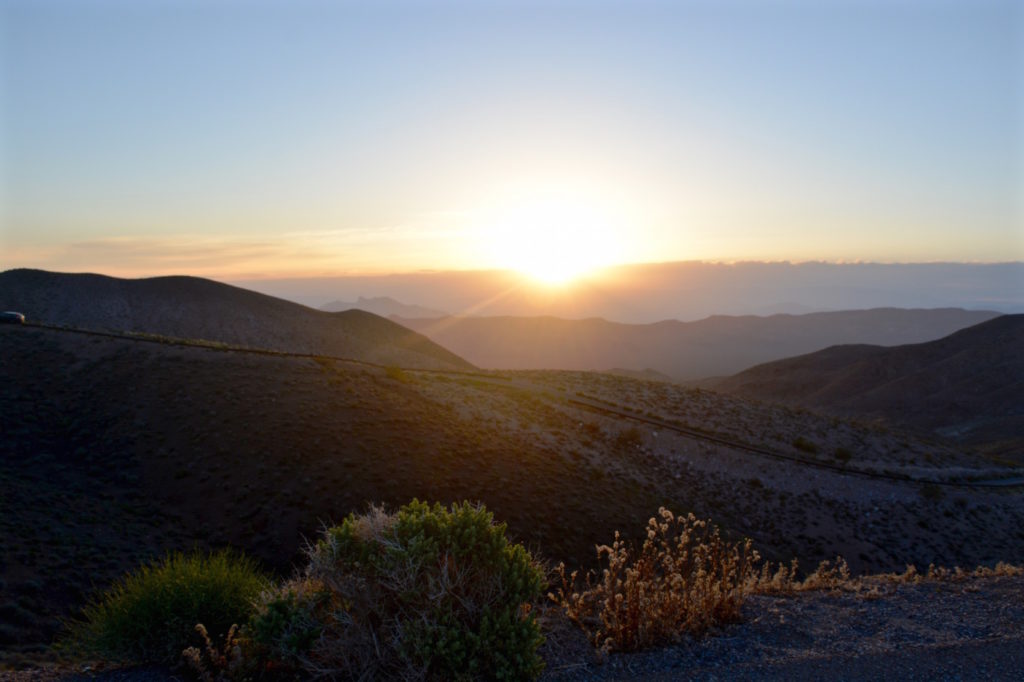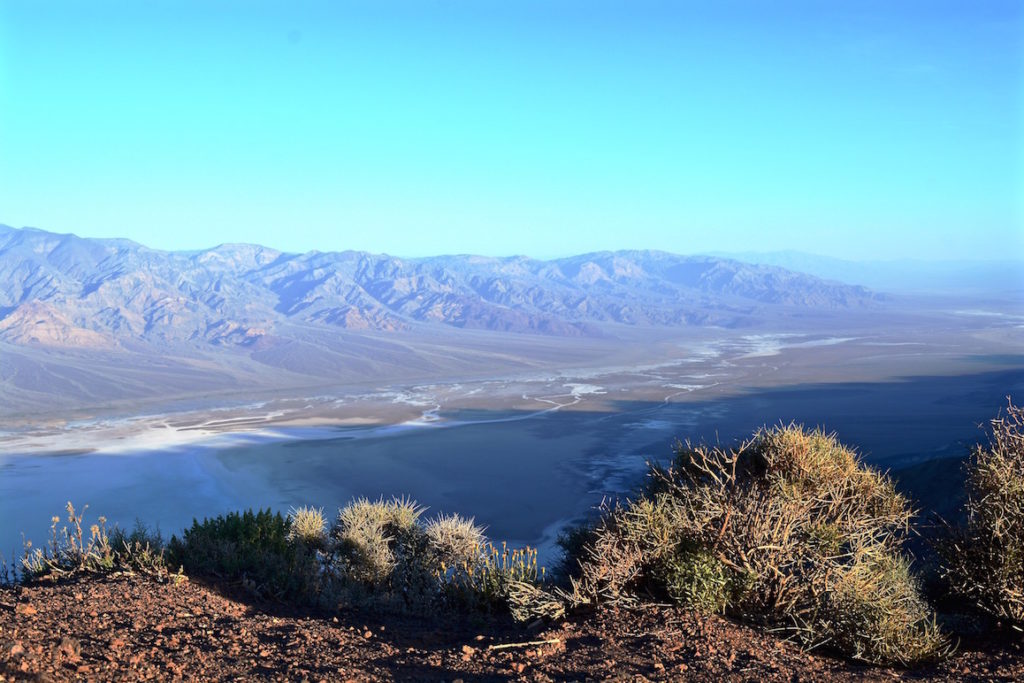 4. Mosaic Canyon – colours are sharpest at midday.  This is a popular hike in the center of the park winds through a narrow, marbled canyon. 
5. Mesquite Flat sand dunes looks just like the Sahara. It's not far from area Stovepipe Wells. Most people think sand dunes are common in the desert. They aren't. There are two interesting areas of sand dunes in Death Valley. The largest is Eureka Dunes, it's the tallest dune in California. The smaller set of dunes near Stovepipe Wells are also quite impressive.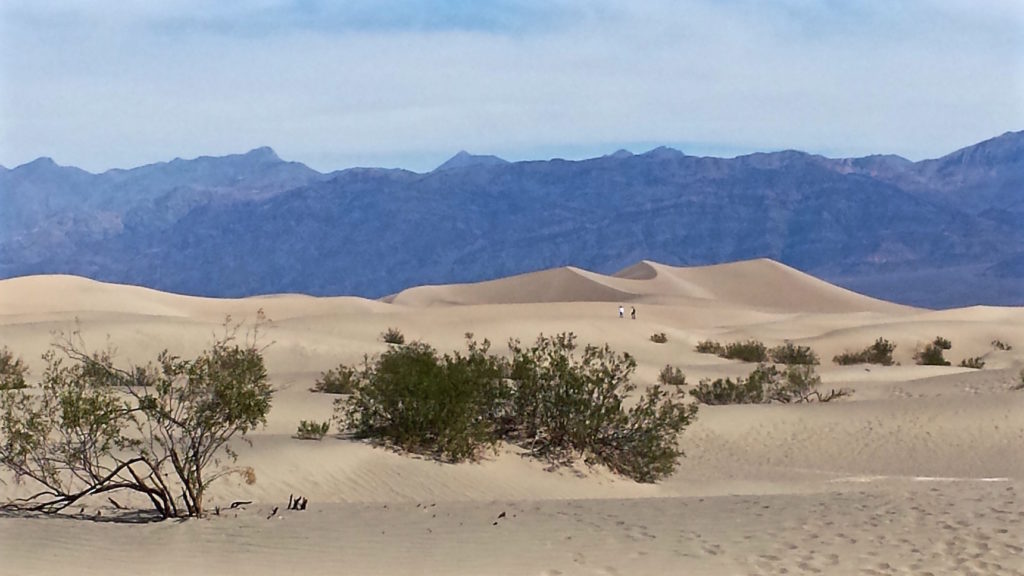 6. Artists Drive with a stop at Artist's Palette. The best time to visit is in late afternoon when exposed minerals and volcanic ash are creating a view that resembles an artist's palette. Truly something to see.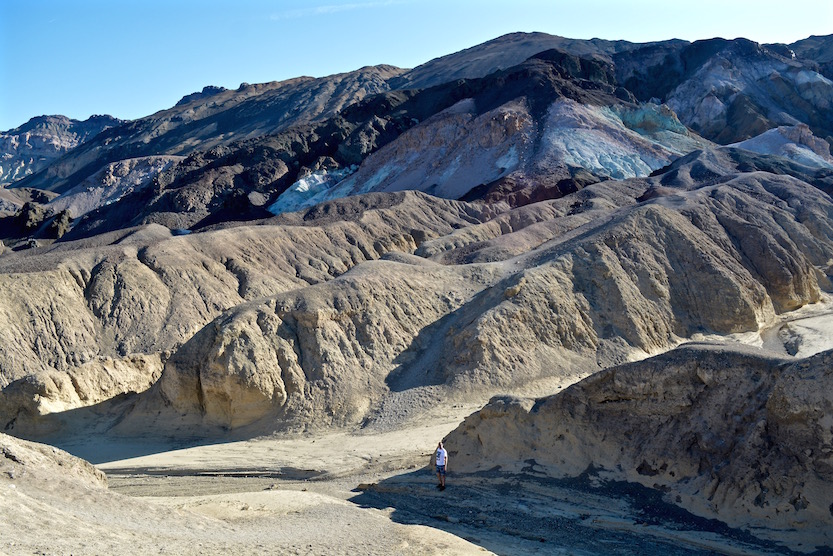 7. Telescope Peak is the highest peak (11, 049 feet about the sea level) in the Park and in the Panamint Mountains. You can see the desert floor which is two Grand Canyon deep!
If you have more than 1 day check the Death Valley Visitor Guide (3.02 Mb .pdf). It's a good source of information in one location. It includes pages on Desert Survival, What To See, Walks & Hikes, Park Map, Park News, Natural Resources, Scotty's Castle, Planning Your Trip, and Visitor Services.
Some things (tips) good to know before coming:
The park is open daily all year but always check road closures at their website before planning your trip as it can change your plans. We had to change our route due to road closure.

Book your accommodation in advance. 

Fill up on gas before coming to Death Valley National Park, the price is much higher and there are only 2 gas stations in the park.

Buy a lot of water. Seriously. It's very hot! They recommend 4 litres per day per person.

Springtime is the most popular time to visit Death Valley. Warm sunny days that are not too hot. There is also a possibility of spring wildflowers blooming, which must be just beautiful to see. 

7-day pass is 20$ (per vehicle). You can buy Annual Pass for all national Parks for 80$ if you are going to visit 3 and more parks within 1 year. You can pay at the park entrance;  at Furnace Creek Visitor Centre, Scotty's Castle Visitor Centre, Stovepipe Wells Ranger Station or at one of the automated fee machines placed throughout the park

There is no mobile phone service. Don't reply too much on GPS Navigation. You may get weak or no signal at all. We printed a map at home, you can do that or get one at visitor centre (open 9AM to 5PM)

Free Wi-Fi Internet access is available at the Furnace Creek Visitor Center, but only when it's open.

Check Death Valley Visitor Guide for different programs and schedule. For example, Nights Sky Almanac where it shows Planets Visible per month, New moon and Full moon, Meteor Shower. Also, they offer a program called "See the milky way in Death Valley National Park" at a full moon. As Bessie Johnson said: "You have never really seen the stars till you have seen them in Death Valley. The clear, limpid atmosphere rings them very close. You feel you could reach up and pull them down". 

At this time, there is no public transportation available to Death Valley National Park.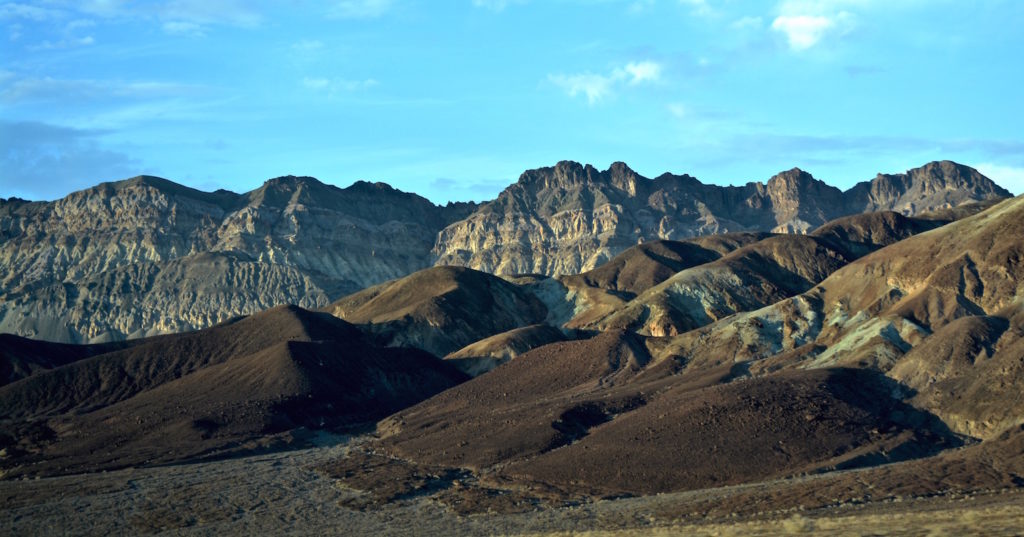 LODGING and RESTAURANTS may be found at four resorts located in the central part of the park: Furnace Creek Ranch and Inn, Stovepipe Wells and Panamint Springs. You can stay in Death Valley National Park but it will be more expensive. Death Valley Junction is the closest town outside of Death Valley, about thirty minutes away from the visitor's center. I booked our hotel here. There are also 9 campgrounds available.
Where to find accommodation? Check Death Valley Lodging or Booking or use a list of money saving travel resources.
Where to find great deals?  Sign up for FREE exclusive weekly updates
Check more pictures and videos: FACEBOOK    INSTAGRAM    YOUTUBE
Do you know more things to do or see in Death Valley National Park?  Share your experience 🙂 
Like this? Share with your friends!