Today it is possible to rent a luxury home or budget accommodation anywhere in the world. All you need is a laptop or phone and/or Internet. Visit the AIRBNB website and you can find anything you want in 34,000+ cities and 190+ countries.
AIRBNB is a leader of rental accommodation, it was founded in 2008 in San Francisco.
Well-known virtual platform AIRBNB is used for communication between owner and a guest and is responsible for payment transactions. Using this platform any registered users can rent (or place for rent) their entire place, a private room or even a shared room around the world from one day to unlimited days at very reasonable prices. From August 2008 till June 2012 10 millions nights were booked through AIRBNB.
For many people AIRBNB website is a goldmine. Sometimes it's difficult to find accommodation at reasonable price in big cities like New York, Paris, Rome, specially in the downtown core. AIRBNB has great choices at any price.  Specially if you are looking at last minute.
HOW TO SEARCH ON AIRBNB:
1. Register and get 45CAD bonus to save on your accommodation! The details are at the bottom of this article or in my another article "Get 45CAD bonus from AIRBNB". (if you are registered, there is a tip there how to get your bonus).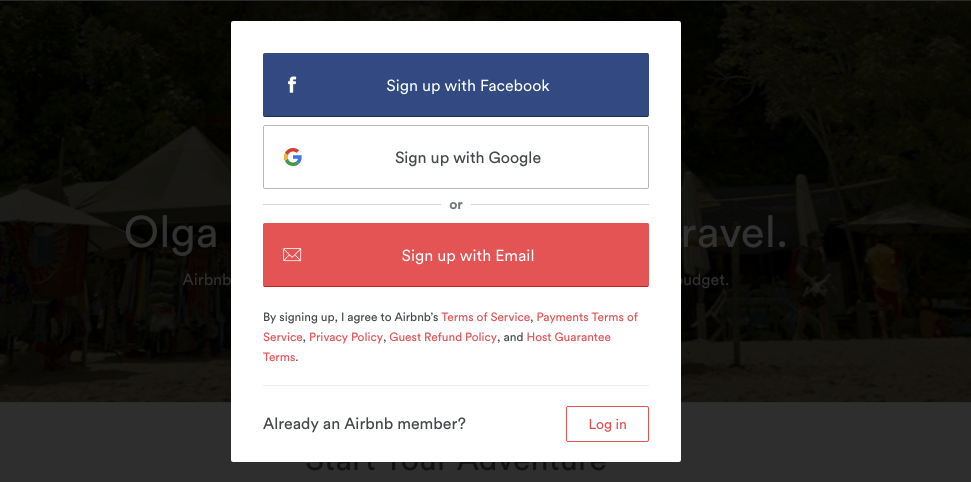 2. In the search box type the city you are going to visit, choose your dates and how many quests. You can rent a luxury villa, a private or shared room. It's your choice based on preferences and budget. I love that you can use filters to narrow your search: price per night, language, breakfast included etc.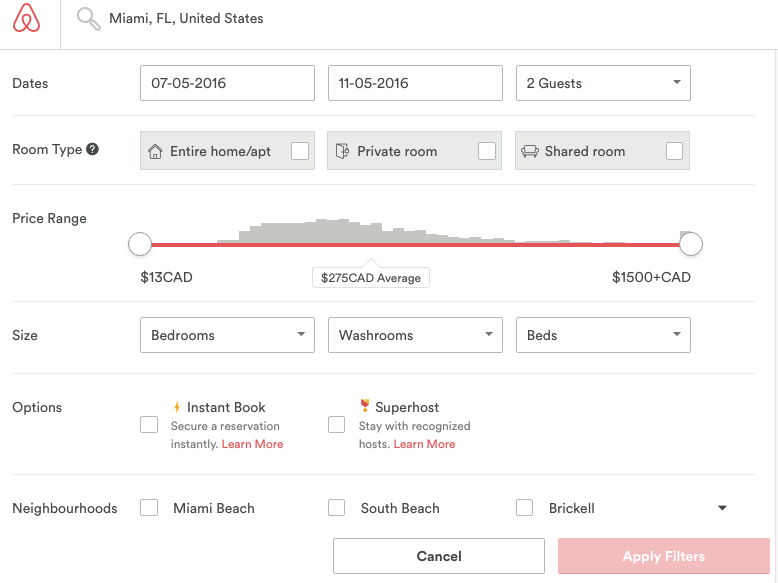 3. When you choose your city and dates, you will get a list of only available properties for your dates at your price range. I love using the map on right. Pick you accommodation close to beaches, sightseeing locations or place of your interest. A word of advise – it's better to pay a little more and stay close to places you are going to visit rather than spending your time to get there. Time is money.

4. Before booking, you can contact the owner to ask questions about anything – if room is available, what is included, if towels are provided, how much is parking if available etc. Just press the button "Contact Host".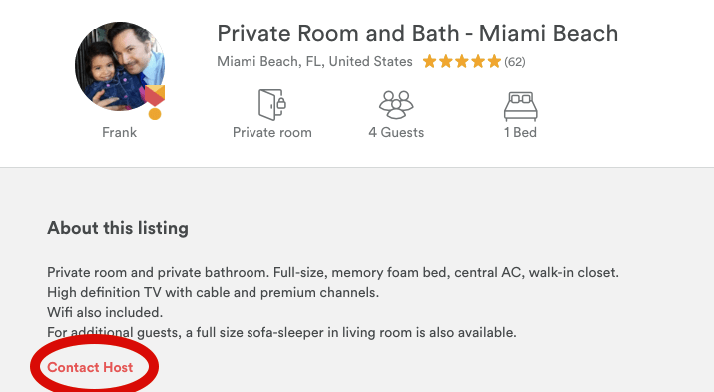 5. The next step is an actual booking. If it's a regular reservation, you will get a notice that your request is sent and the owner has 24 hours to reply. You can cancel your request with no penalty any time before a request is accepted by the owner. There is a possibility of an instant reservation, which allows you to book without owner's approval. In this case, you need to fill out a form indicating dates, number of quests and press the button "Book instantly."
6. Then you will need to fill out the payment form (using  Master card or Visa or Paypal). After that, you will get email that your booking is confirmed and invoice you can find in your profile.
AIRBNB has an option to get replies by email or text message. It's up to you. Their support team is available 24/7.
A FEW TIPS!!!
Choose your price range – there is a filter to limit availability within your price range.

Check location on the map on the right.

Check for pictures. Choose the one with a lot of pictures and with a sign – their photos have been verified.
Pay attention to owner's profile – how fast they reply, how long they have been registered with AIRBNB, how often they update their calendar and reviews.

Carefully read description and rules of the place.

Carefully read the cancellation policy. AIRBNB charges a nonrefundable fee from 5CAD to 40CAD (depending on price).
Read reviews from people who have already rented from them.
THE BENEFITS OF USING AIRBNB
the best part (except the price) is that you have an opportunity to see how the locals live, see their customs and maybe even make a new friend.
prices for renting on AIRBNB are much lower than in hotels, sometimes they are lower than on bookig.com. See my article "Get 45CAD bonus from AIRBNB" to see the difference between the price for the same hotel and same dates on AIRBNB and BOOKING.COM. According to some estimates, the cost difference can be up to 30-50% lower.
you can rent for 1 day or a few months. If you would like to save money, it's better to rent for a longer period as a service fee and cleaning fee will be added only one time. For example, if you rent an apartment for 60CAD per night and fee is 30CAD (taxes, cleaning fee and booking fee are all together), you will pay 90CAD per night. If you rent the same apartment for 5 nights – your cost per night will be 66CAD per night (50CAD per night plus fee 30CAD/5 nights).
to make a reservation on AIRBNB is very simple. AIRBNB has an awesome platform where you can send questions to the homeowner before making a reservation and you are able to see all your messages in your profile.
a wide choice of accommodation in different locations  at very reasonable prices.
possibility to have breakfast included or you can cook on your own. (savings on restaurants)
all necessary utilities are included – WIFI (comparing to some hotels that charge for WIFI), iron, plates, hairdryer etc.
sometimes parking is included or you can have bicycles (for free or low price).
the owner can give you many useful tips about the city.
And ONE MORE thing! You can invite your friends to stay at your place while you are away from home and earn money for your next trips.
**************************
AS I MENTIONED AT THE BEGINNING –  SPECIAL BONUS FOR MY READERS!!!
If you are new to AIRBNB, you can get a bonus of 45CAD for traveling and $83 CAD for hosting when you register using my invitation.
Please read terms and conditions: A Qualifying Reservation must have a total value (excluding guest fees or taxes) of at least $130 CAD.
When you register directly, without an invitation, they don't give 45 CAD
Read more how to get bonus (even if you are registered) in my article "Get 45CAD bonus from AIRBNB"
If you have any questions, please post in comments.
Like this? Share with your friends!