GREAT NEWS!
When you register the first time at airbnb.com you can get 45CAD towards your reservation! 
It was previously 20CAD, isn't it awesome to have 2 times more money to spend on your trip?
This new bonus applies starting April 2016. I don't know how long this deal will be available, so hurry up to register on AIRBNB website using my invitation.
3 STEPS AND 45 CAD BONUS IS YOURS!
1. Register using my invitation and be sure you see the screenshot as below. If you don't see it, you will not get 45CAD (bonus will be shown in your country currency and equivalent to 45CAD).

2. Search accommodation in the city you would like to visit for required dates.
3. Book it. You must book a Qualifying Reservation to be able to use your coupon and save on your accommodation.
What does that mean?
A Qualifying Reservation must have a total value (excluding guest fees and taxes) of at least 127CAD (or it's local currency equivalent if they support it). It must be booked and paid for via the AIRBNB site. When you register read more about AIRBNB Referral Program Terms & Conditions.
How does it work? For example, you are going to Toronto for 3 nights and you found a room for 50CAD per night. So your total stay will be 150CAD (you are already eligible to use your discount). Applying your discount your total will be 150CAD – 45CAD = 105CAD plus fees and taxes = great deal!
You can see your 45CAD bonus in Travel credit in your profile. 45CAD bonus will be applied automatically and you will be able to see it after you press button "Book". Your 45CAD bonus will be deducted from your total amount for your booking.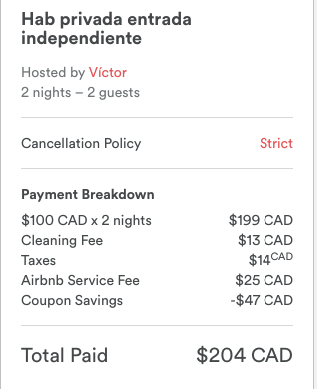 More info about AIRBNB: how it works and why many traveler's love this service, you can find in my article "Instructions on how to book accommodation with AIRBNB". 
You can get 45 CAD bonus only if you register for the first time. If you already have an AIRBNB account you cannot get this bonus. I don't recommend registering with another email, it's risky. If AIRBNB finds out, they can lock both accounts and you will not be able to use their service.
BUT, there is a TRICK on how to get 45CAD bonus for your reservation. As a rule, people travel with family or friends. And most probably one of your travel companions does not have an account with AIRBNB, so you can ask them to register and get the 45CAD bonus.
Lately I book almost all my accommodations with AIRBNB. I should start using it earlier. It's very convenient and you save a lot of money. 
Sometimes prices are much lower than you can find on booking.com. Here an example of price on AIRBNB (first picture) and Booking.com (second picture) for the same hotel in San Francisco for the same dates. Did you notice a difference? 161 CAD (with all fees and taxes) on AIRBNB comparing to 354 CAD on Booking.com
Just few days ago I used this service to stay at condo in Miami Beach and it was great experience.
By the way, if you book for a long term stay (for example 2 months), AIRBNB will charge your credit card for only 30 days first, and then each other consecutive month. 
If you have any questions, please post in comments.
Like this? Share with your friends!