Do you think you should pay a lot of money to travel more?
I don't think so!
You should be using Free Walking Tours.
What are Free Walking Tours? Read on and find out…
What are Free Walking Tours?
Free Walking Tours – it's exactly what the name implies; a Free Walking Tour of the city you are in. Free Walking Tours is strictly on a volunteer basis and carried out by locals who love their city and want to show tourists less touristy areas, share interesting anecdotes  and give you an inside view of the city's pulse. All this is based on their "pay what you like" motto Basically you pay how much you thought the tour was worth.
Taking advantage of Free Walking Tours, you will be able to explore the most interesting sights of a city almost for free, learn the city's history from the mouths of locals, as well as get acquainted with tourists from different countries and cities. It is very interesting experience, isn't  it?
Where you can find Free Walking Tours?
Free Walking Tours exist in practically every city of our planet. Tours are conducted in the capitals and large cities, they are used  daily by thousands of tourists from around the world. Free Walking Tours is an alternative to the standard tours with professional guides without the high price tag.
Program of Free Walking Tours
As a rule, each Free Walking Tour is absolutely unique. It means that you will not find 2 identical tours in one city. Each guide adds his or her own personal touch that's why each tour is very interesting and unique.  
Which one to choose?  There are reviews on the Free Walking Tours website as well as on TripAdvisor where you can find not only reviews but a lot of useful information about places, sightseeing and events in the city you are going to visit.
For example, in Cusco one of the companies has standard tours about historical cities, also has food tours where tourists can try local authentic food. Also it has night tours – where tourists can enjoy night life in the city. Some companies offers bike tours etc. It's a good ides and way to burn off vacation calories.
We personally used this one http://www.inkanmilkyway.com/ in Cusco, Peru.

Each Free Walking Tour is different and depends on your guide. I loved the one organized in Cusco with our guide Elvis, our other one in Lima was a bit boring. Some guides don't speak English very well, which can complicate things and can make your tour less interesting. Some guides just give you information you can read easily in a travel guide, some guides give you so many interesting facts that you can listen them forever. 
How to book Free Walking Tour?
Simply Google Free Walking Tours + the city. Some of them you can book online in advance, for others you just show up at arranged time at certain place and look for anyone in blue/red/yellow jacket with a Free Tours sign. BUT! there is one website where you can find FREE TOURS in 18 cities across Europe, the Middle East and the US -it's Sandeman. I mentioned them on my page – Where to book.
A quick search on Facebook can get you info as well. At the end, if I can't find anything, I will check out the Tourist Office.
Sometimes it makes sense to pay as what happened to us in Munich. There were so many people using Free Walking Tour that we bought tickets for 11 EUR each instead and had personal guide.
It's your choice.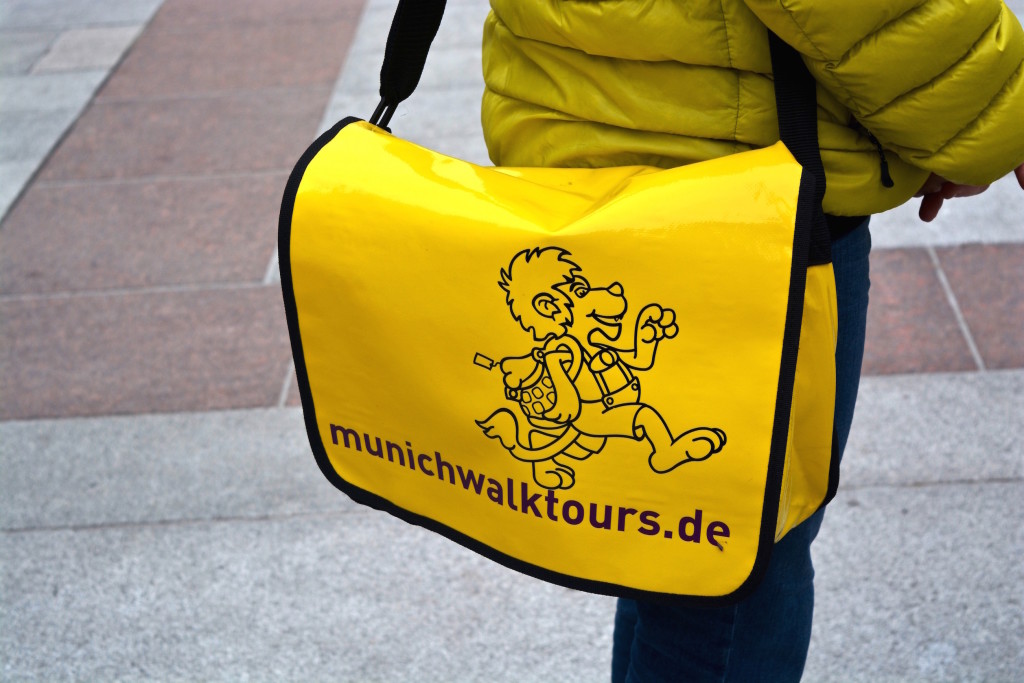 How it works?
Free Walking Tours are free but tips are appreciated as none of the guides is paid a salary. Tipping is absolutely up to you, if you enjoyed the tour then why not tip? Some guides will tell you on average they get X amount, others will not even bring it up.
Usually organizers of Free Walking Tours cooperate with different companies on a partnership basis. After all, if a tourist likes cocktail tasting during the tour, they will surely come to this bar again for drinks.
All free tours are mostly in English. In some countries, there are also tours in local languages. For example, in South America – in Spanish.
In most cases the guides are young and full of energy with a great sense of humour and really want to show you their city. And the tourists are in the majority – youth – up to 45 years. 
Oh, don't confuse Free Walking Tours with City Walking Tours. The last one is interested, but there is a fixed payment though, so do you research. 
My opinion
I personally think that Free Walking Tours is an awesome idea. Guides give you a ton of useful information and tips that you can't find in Wikipedia or a travel guidebook. Guides will show you some places that you would never have found. Also it's almost free!!! You can leave tips depending on how much you like your guide, so you pay after the tour and not in advance. If you happen to miss your excursion – you are not charged. I like that Free Walking Tours are informal. It's like meeting with friends. 
Do you have an experience of visiting Free Walking Tours? Have you taken any tours on you travels? Tell us about your experience! 
Like this? Share with your friends!