Many people think that Miami is filled with only white beaches, beautiful tanned people from all over the world, great weather all year around, expensive cars, well-known night clubs and other entertainment.
Partially yes, that's true. However, having arrived here only for a few days, you may be able to find more useful and interesting things to do rather than just lying on the beach during the day and going to discos in the night. In this article, I will talk you about the main attractions in Miami, where to go and what to see.
Let's start with weather and climate as it will help you to decide the right time to visit Miami. The fact that the climate is tropical, the temperature and precipitation change significantly. From May to November it's low season in Miami. It is hot, humid, tropical storms, the air temperature in the sun is about + 35C every day and the water temperature is about + 30C.
From November till May is opposite – high season in Miami. It is not so humid, almost no rain, but at the same time, the ocean becomes cold enough and in general is not so hot in Miami at this time. I would recommend you wear a sweater in the evening as sometimes it's really fresh when the temperature drops to near zero!!! But it does not happen so often, keep in mind that winter in Miami – is not the same as winter in Thailand or India.
Miami is a big city and  is divided into smaller cities. I will divide it into 2 main parts – City of Miami and City of Miami Beach. In this article, I will talk about City of Miami Beach and in my next article  "Discover Miami – part 2 – City of Miami", I will talk about City of Miami.
The most attractive tourist area of Greater Miami is City of Miami Beach (or just Miami Beach) where the majority of hotels, restaurants, clubs and other tourist attractions are. Miami Beach is separated from the Miami Biscayne Bay and is connected to it by several bridges. The east of Miami Beach is washed by the Atlantic Ocean.
Miami Beach is a narrow strip along the ocean and it stretches for 15 kilometres and is divided into smaller areas. One of the main tourist areas is South Beach (from 1st till 20th street). Here is the unique Art Deco district where you can find a huge amount of restaurants, hotels, the exhibition centre, also a lot of night clubs, among them well-known Nikki Beach, Store, Cameo, Set, Wall.  Also, local residents and realtors, for some reason, the area from 1st till 5th street call SoFi, South of Fifth – it's the very south, there is almost no traffic, so it's always quiet.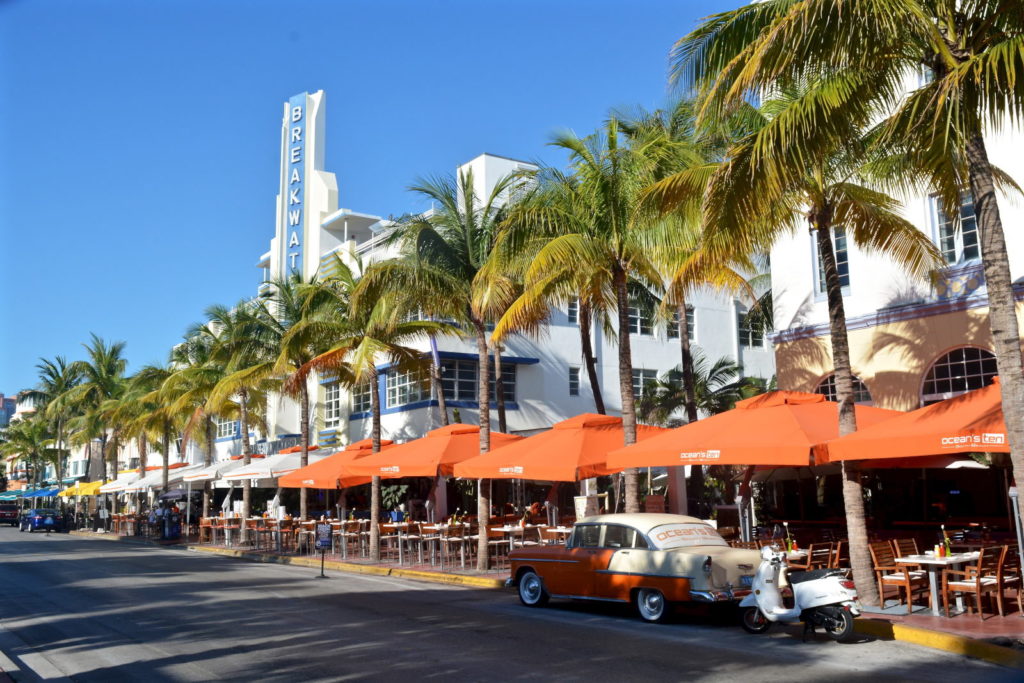 In addition to bars, restaurants and hotels on South Beach there are many shops, especially on Collins avenue from 5th to 8th streets, and on Lincoln Road. Also, here you can rent a car, motorbike or boat. Another entertainment you can find here – renting kayaks to explore the bay during the day or at sunset.
MAIN TOURIST AREAS OF MIAMI BEACH:
South Pointe Park – the most southern part of Miami Beach. There is a beautiful park, which is also called South Pointe Park, where you can enjoy the breeze, relax on the bench or just walk along the water. TIP: Almost every day about 5 o'clock in the evening you can see a parade of huge cruise ships (3-5 thousand people on board) passing by South Pointe Park from Port of Miami. By the way, Port of Miami is the largest cruise port in the world.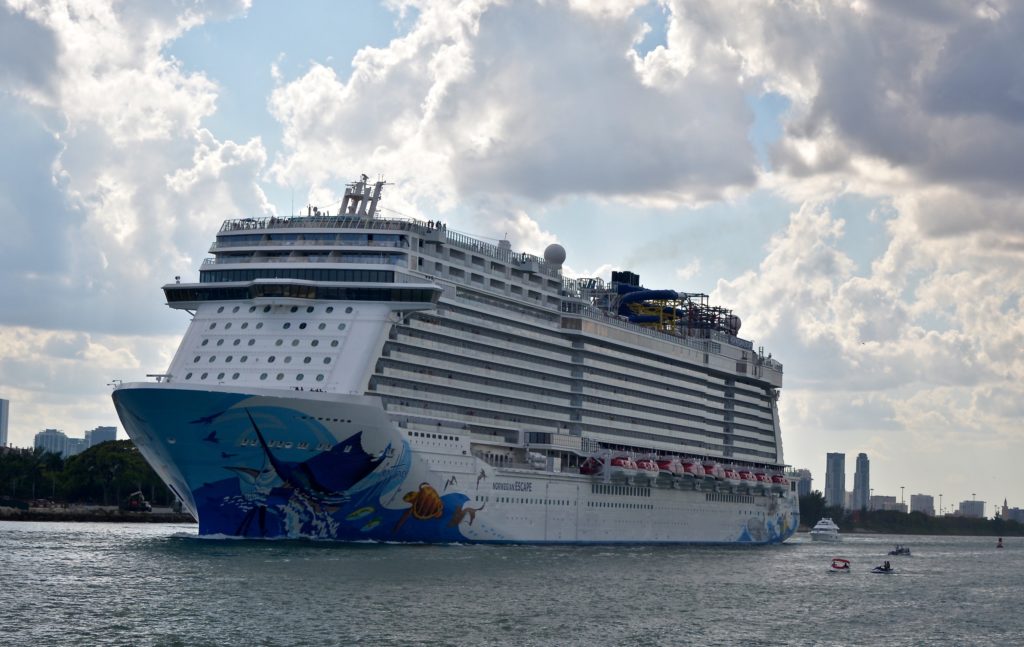 South Beach –  where you can always rent a beach chair, umbrella and enjoy white sand and warm clear ocean. There is no fee. There are fireworks in New Year and Independence day near 8th Street. TIP: If you arrive at South Beach by car, the cheapest parking is on 13th Street between Ocean Drive and Collins avenue (1301 Collins ave, Miami Beach, FL, 33139) – for only 1$ per hour. Or you can park in the valet-parking on Ocean Drive, but it will cost  you about $ 20.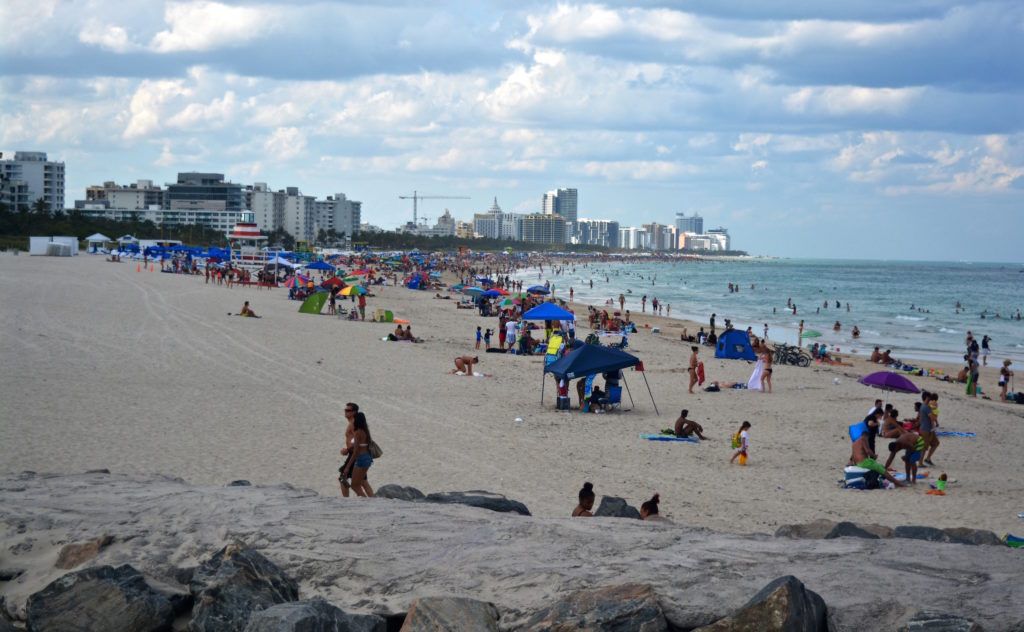 Art Deco district  – the entire South Beach area is a monument of architecture of the first half of 20th century. Most of the buildings (800) are protected by the state, so they look the same as at the time of construction. That is why you will not see almost no tall buildings. You can just walk around residential neighbourhood and enjoy unusual flavour of this part of the city.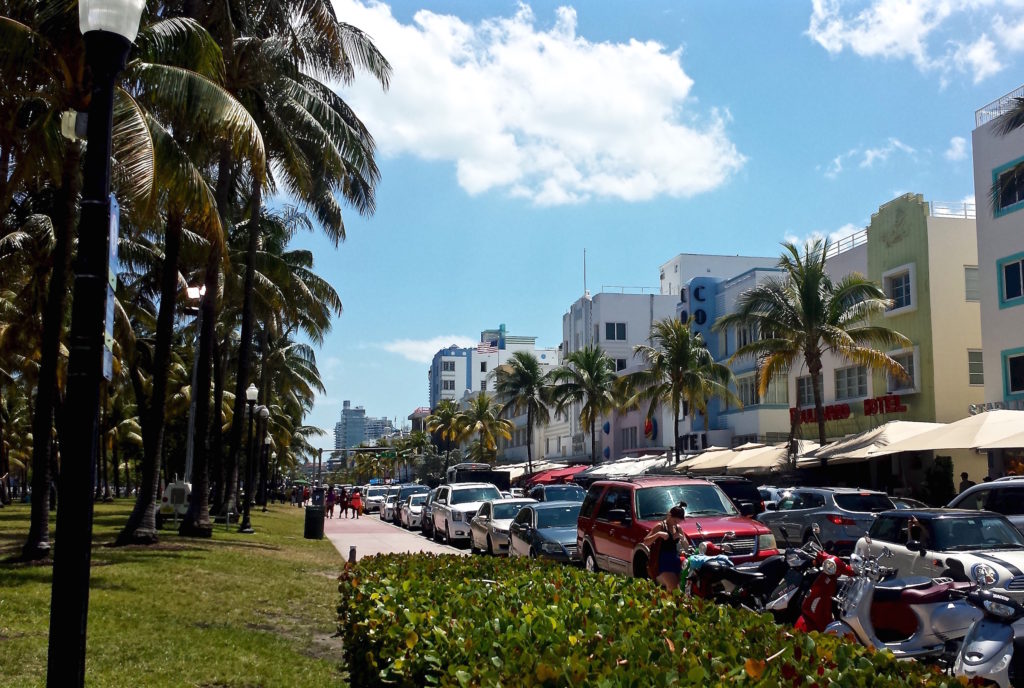 Check more at Art Deco Welcome Centre where you can find brochures, maps, guided tours (Art Deco Walking Tour, Self Guided Audio Tour of Art Deco District, City Tour and more). Self-guided tours are available Wednesday through Sunday. 
Ocean Drive – the street where there are many boutique hotels, restaurants with terraces overlooking the park and ocean and a lot of night clubs. It worth mentioning that a dinner or drink on Ocean Drive is not cheap. Many famous movies were filmed on Ocean Drive, including "Scarface."
On Ocean Drive you can see the most famous residence. The large white, Spanish style mansion Casa Casaurina was the home of Italian fashion designer Gianni Versace, who was shot to death in 1997 on the steps (1116 Ocean Dr, Miami Beach, FL, 33139). Inside there is Gianni's restaurant that you can visit only by reservation. I would recommend having breakfast in News Cafe where Versace had his coffee and read his newspaper every morning. That's what exactly we did during our stay in Miami beach.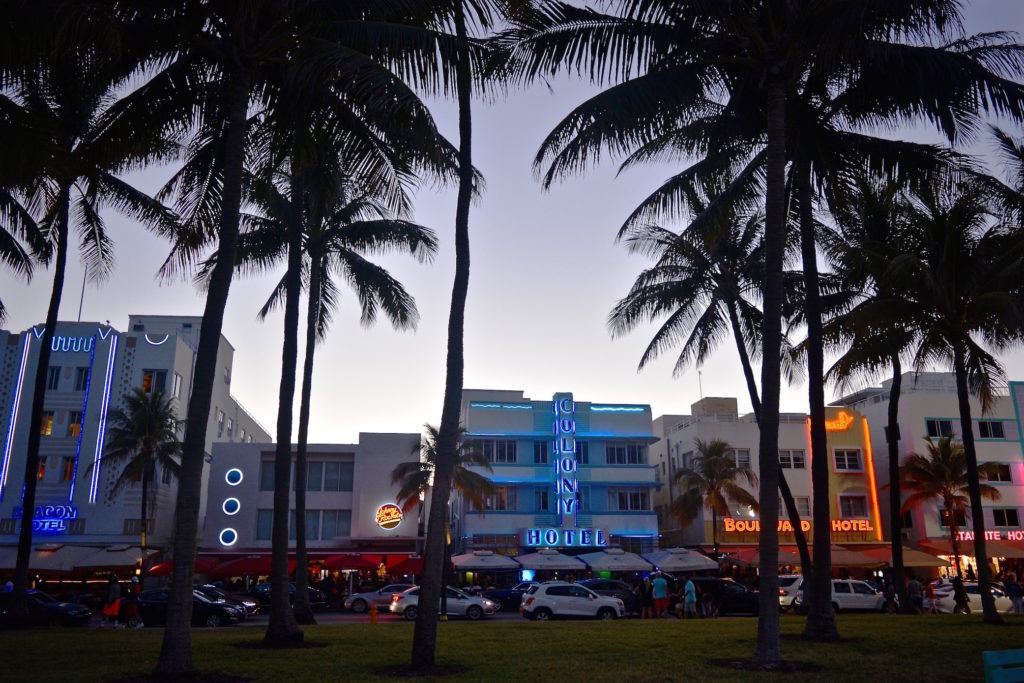 Lincoln road – I think it is the main tourist street of the city. A lots of well-known open air restaurants are located here. Also you can find a large theatre, recently renovated Symphony Hall, Art Galleries; farmers market every Sunday where you can buy exotic fruit at very cheap prices, fashion shows in the open air; festivals etc.  Also on Lincoln road you can find Apple store, Zara, Gap, H & M, Forever 21 and other large stores.
In fact, the street became pedestrian only in the 90s, but now it is a favourite place to come to relax, not only for tourists but also for residents from all over Miami. Lincoln Road stretches about 10 blocks across the entire width of South Beach from the Atlantic Ocean to Biscayne Bay.
TIP: If you arrive here by car, there is a parking for $ 1 per hour only half a block from Lincoln road (on Pennsylvania ave / 17th street, Miami Beach, FL, 33139).
Close to Lincoln Road you can find a Holocaust Memorial. It was opened on February 4, 1990 by the non-profit organization, organized by the victims, the survivors of the Holocaust 1933-1945. Holocaust Memorial is open 7 days a week from 9AM to sunset. It is located at the intersection of Meridian and 20th streets.
Shopping. And of course I have to mention shopping on Miami Beach. If you love shopping and have time –  I would recommend Aventura Mall where you can spend the whole day.
Aventura Mall is the 5th largest mall in the United States. It is located in the north of Miami Beach, Aventura area. There are a huge number of boutiques and large department stores such as Macy's and Bloomingdales, as well as the Apple store. This is an indoor mall, you can enjoy shopping, specially when it's rainy weather.
TOP THINGS TO DO ON MIAMI BEACH (my recommendations):
Sunrise at the beach

Swim in the ocean and relax on the beach (free)

A one time experience  – dinner on Ocean Str (I would recommend Gianni's restaurant. Reservations required. You can make a reservation online)

See a parade of cruise ships in South Point Park (free)

Walk on Ocean Street in the evening to feel vibration of Miami Beach  (free)

Shopping at Aventura Mall (Louis Vuitton, Fendi, Boss, Apple, Tiffany & CO, +300 stores)

Rent a bike and ride around (TIP: use this link to find bike rental at half price)
There are no Free Walking Tours in Miami as I wrote in one of my articles "Free Walking Tours on our Planet". But you can print the itinerary from National Geographic – Miami Walking Tour: Art Deco District and be your own guide for free or book a guided tour.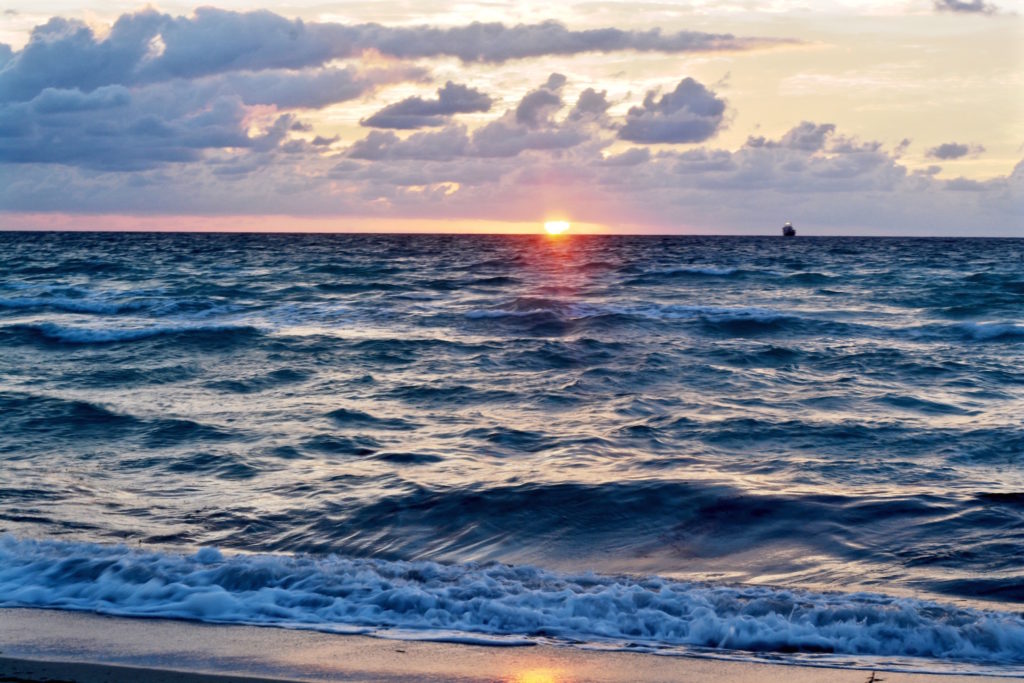 Check my other articles "Top 15 things for free in Miami" http://www.alltravel4u.com/top-15-things-for-free-in-miami/ or "Discover Miami, Part 2" http://www.alltravel4u.com/discover-miami-part-2-city-of-miami/
Find more information about Miami Beach and Greater Miami – http://www.miamiandbeaches.com/.
Where to find accommodation in Miami Beach? Check Airbnb, Booking or use a list of money saving travel resources. 
Where to find great deals?  Sign up for FREE exclusive weekly updates
Check more pictures and videos: FACEBOOK    INSTAGRAM    YOUTUBE
Have you been in Miami already? Share your experience 🙂 Put your comments below.
Like this? Share with your friends!